Battery powered PA Systems
Prices are charged per day + VAT (Long weekends, Fri-Mon is charged as one day)
Returns by 12:30pm Please
Hires collected on a Thursday or Friday are to be returned on the following Monday.
If you require a different system from the examples listed below you can either e-mail us ( sales@swlighting.co.uk ) giving us as much detail as possible, or telephone (01626 890806) and speak to one of our experienced team. Pictures are examples of the kit we have, but may not be the actual kit provided, if not equivalent specification equipment will be supplied.
We do not charge extra for the weekend.
12" 200w portable PA - £50+ VAT
Portable battery or mains powered PA system with radio microphone and MP3/usb player. Suitable for small outdoor presentations, announcements, background music etc, where mains power is not available. Up to 8 hours battery life (just mic), 5 hours with music playing. Easily wheeled into position.
Self-contained portable PA units based on the QR-series speaker cabinet. Built-in amplifier operating from mains or internal rechargeable battery powering a main driver and compression driven horn unit. A pair of VHF handheld wireless microphones are included with the receiver built into the mixer/amp section at the rear along with 2 further mic inputs, auxiliary line input and integral USB/SD media player. A moulded handle and pole mount are included and a retractable trolley handle and rear wheels provide easy portability.
Echo effect for microphones
2 x VHF handheld microphones included
Integral USB/SD media player with remote
Mains/rechargeable operation
Built-in trolley facility
Switchable VCV "mic override" function
Moulded handle and internal 35mm pole fitting
Optional neckworn transmitter available - 174.1MHz (178.851UK) and 175.0MHz (178.852UK)
Power supply: 220-240Vac, 50/60Hz / external 12Vdc / internal battery
HF driver: 25mm (1'') titanium compression driver
Battery life: Up to 8 hours
Controls: Mic volume, Echo, Bass, Treble, Volume & VHF mic volumes, VCV
Inputs: 2 wired mic (jack) and aux (RCA)
Wireless microphone frequencies: 174.1MHz + 175.0MHz
Amplifier output: 200 Wrms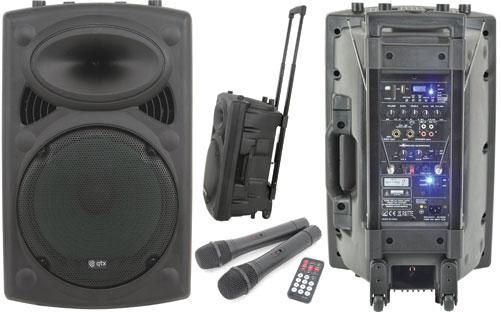 15" 250w portable PA - £60 + VAT
A similar unit to the one above except its larger with a 15" main driver and has more power.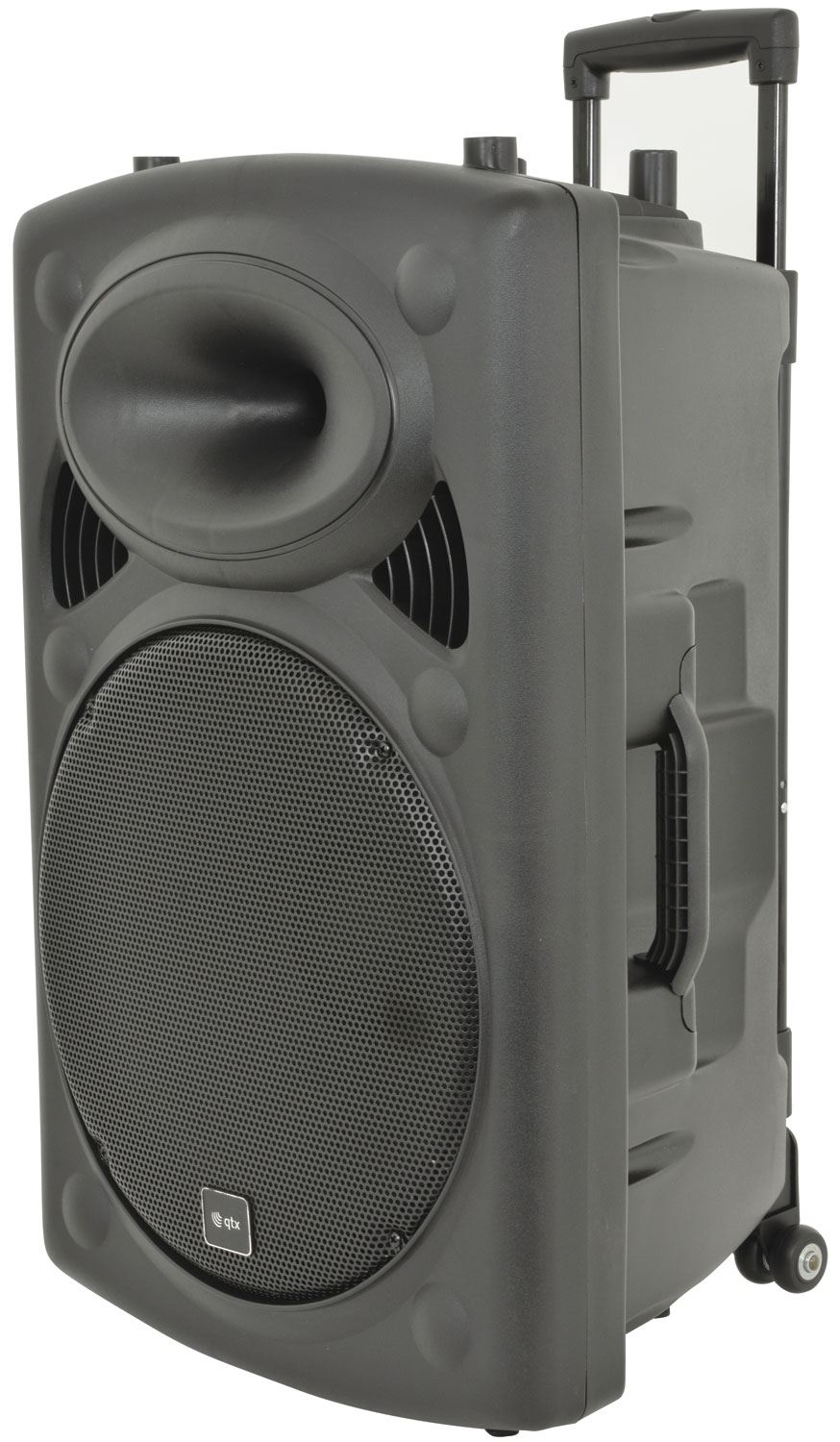 Citronic Neolith 300w Battery powered PA array system with bluetooth - £60+VAT single stack (Pair £110+ VAT - 2 columns)
A height-adjustable, rechargeable, column array style speaker, suitable for audio playback, small live performances and public address, with corresponding inbuilt DSP settings. The Neolith feat...
Active subwoofer and 6-way column speaker
Mains or battery operation
Ideal for busking, announcements, outside background music/acoustic sets, party indoors/outdoors.
Supplier website video and more specifications: http://www.avsl.com/product/171.232UK-neolith-portable-column-array